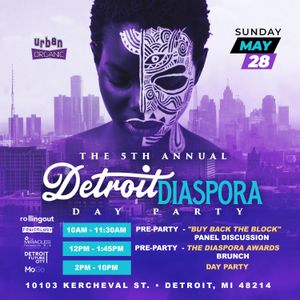 Detroit Diaspora Day Party
DETROIT – On the Sunday of Memorial day weekend (Detroit's biggest dance music weekend), the 5th annual Detroit Diaspora Day Party will occur at Epiphany Community House, located at 10103 Kercheval on the corner of Cadillac in the city's East English Village Neighborhood, on Sunday, May 28, 2023  from 10am - 10pm. The event will highlight a line-up of exquisite music selectors from Detroit and around the country; and will feature electronic music that fits the mode of dance music most popular in the city during this holiday weekend, and much more. The traversing sounds, including techno, house, afro beats, hip hop, soul, bossa nova, amapiano, and more, will take music lovers on a global journey. 
"This event is about music, but also about so much more! It's about showcasing the diversity of Detroit's artistic and cultural communities and those contributions to the world. From the Diaspora Marketplace to the Buy Back the Block Panel discussion, we want to create a space where people can come together, share ideas, dance, and commune. We hope that this event will inspire others to continue to invest in Detroit's creative economy and help keep the momentum of building a more vibrant, inclusive, and sustainable city" says co-organizer, Melinda "MeMe" Anderson of Studio M Detroit 
The event will also include the following: 
10:00am-11:30am - (Pre-Party) "Buy Back The Block" Panel Discussion, will be led by husband/wife urban planning duo Ritchie and Clarinda Harrison of The Everyday Sacred. The Panelists will include Chase Cantrell, Executive Director, Building Community Value; Chico Sorrell, Sorrel Development; Sonya Greene, Linwood Fresh Market; and Detroit native, and Dennis Perkins of Washington, DC based, Civitas. In addition to these panelists, the discussion will include those actively working in the real estate/development space as well as those looking to make entree into the arena.  The conversation will explore the ways in which Detroit expats and current residents can work together to continue revitalize the city in an equitable fashion. 
12:00pm-1:45pm - (Pre-Party) The Diaspora Awards Brunch -  Brunch prepared by Chef Nik Cole will pay tribute to homebased and expat Detroit creatives, including: artist - Shirley Woodson Reid; retired gallerist - Dell Pryor; fashion designer - Maurice Malone; filmmakers - Kristian Hill and Jennifer Washington; and entrepreneur and DJ - Bruce Bailey 
2:00pm-10:00pm 
DJ Performances:  
Inside Stage 
Ron Trent 8pm-10pm 
Duane Powell 6:30pm-8pm 
DJ Spivey - 5:30pm-6:30pm 
Sean Alvarez - 4:30 -5:30pm 
Drake Phifer 3:30-4:30 
AmaDetroit 2pm-3:30 
Outside Stage

Sabrina Nelson - 8pm-9pm 
MyGodComplex -7pm -8pm 
DJ Frances Jaye - 6pm-7pm 
Vernon English - 5pm-6pm 
Bernan Bush - 4pm-5pm 
DJ Love Beam - 3pm-4pm 
Eighfe 2pm-3pm
Diaspora Marketplace - reminiscent of a vibrant and bustling African marketplace, where merchants come together to sell their wares and craft products. 
Diaspora Wellness Lounge - The wellness lounge will have on hand Kim Yokley of Kimochi Detroit, Dr. Ruth Lehman of Alleviate Acupuncture and Wellness, Toya Hankins of Face Maps By Toya, and Geo Edwards of Grain and Pestle all offering a bevy of natural healing technics, including massage, reflexology, herbal remedies, and voice Harmonic evaluations as well as Blood Pressure checks 
Face painting - featuring Ifoma Stubbs and Tre Marcel  
DetroitisDifferent.com podcast will be on-site streaming live, interviewing attendees and performers, capturing the vibrant spirit of the event. 
MogoDetroit.com will also be setting up a Bike Rental Station at the event, providing a fun, flexible, and convenient way to explore the festivities and the surrounding area. 
Diaspora Pop-Up Gallery - original works of Detroit artists Oneita Jackson, Darnell Kendricks, Onzie Norman, Phil Freshman Simpson, Darin Darby, Priscilla Phifer, Maliek Phillips, Melinda Ruth Rushing, and others will be on display. The exhibit is curated by Detroiter Onzie Norman, and Harlem New York Curator, Phillip Harvey. 
Featured DJs include globally renowned Ron Trent, Duane Powell,  and Detroit's own Sabrina Nelson, Vernon English and a soulful line up of other DJs from around the country.  Proceeds from the event will benefit The Miracles Foundation - a non-profit that raises funds for educational, performing art and humanitarian scholarships and grants. Tickets may be purchased online at urban-organic.net or on Eventbrite.com. Rollingout.com and Fusicology.com  and DetroitisDifferent.com are the official media partners for the Detroit Diaspora Day Party. 
For questions or to inquire about vending call 313-451-3625 or email events@urban-organic.net
Detroit Diaspora DAy PArty